I like it when the watch manufacturers give nicknames to their own products. Saves all the arguing and hurt feelings for watch forum members with nothing more important to be concerned about.
The Scuba Fin was released this year (2012). Available in a wide selection of colors, the watch is a entry level priced sport diver with a water resistance of 200M although the model is not ISO Diver certified. Available only in a rubber strap the watch is clearly intended for casual recreational use. With the availability of color options and the nickname, I wonder if this is an attempt on Citizen's part to target the G-Shock demographic. Color options are as follows:
Black

BN0095-08E
Blue

BN0097-02H
White

BN0095-08A
Green

BN0090-01E
Orange

BN0097-11E
While the green model BN0090-01E comes with a traditional steel case, the other models are available in a PVD coated glossy black case.
The construction of the watch is very good. There's been very few examples of times when I've been disappointed in the quality of construction of a watch from Japan and this is not one of those times. The case milling is well done and the PVD finish is a deep sexy glossy black. The screw down crown does have the same light weight feel to that I remember my last Citizen diver (BN0085-01E) having. Honestly it feels like plastic, but I have a hard time believing that Citizen would use plastic for the crown of all things. The caseback with the normal laser etching is also a screw down and is not coated in PVD.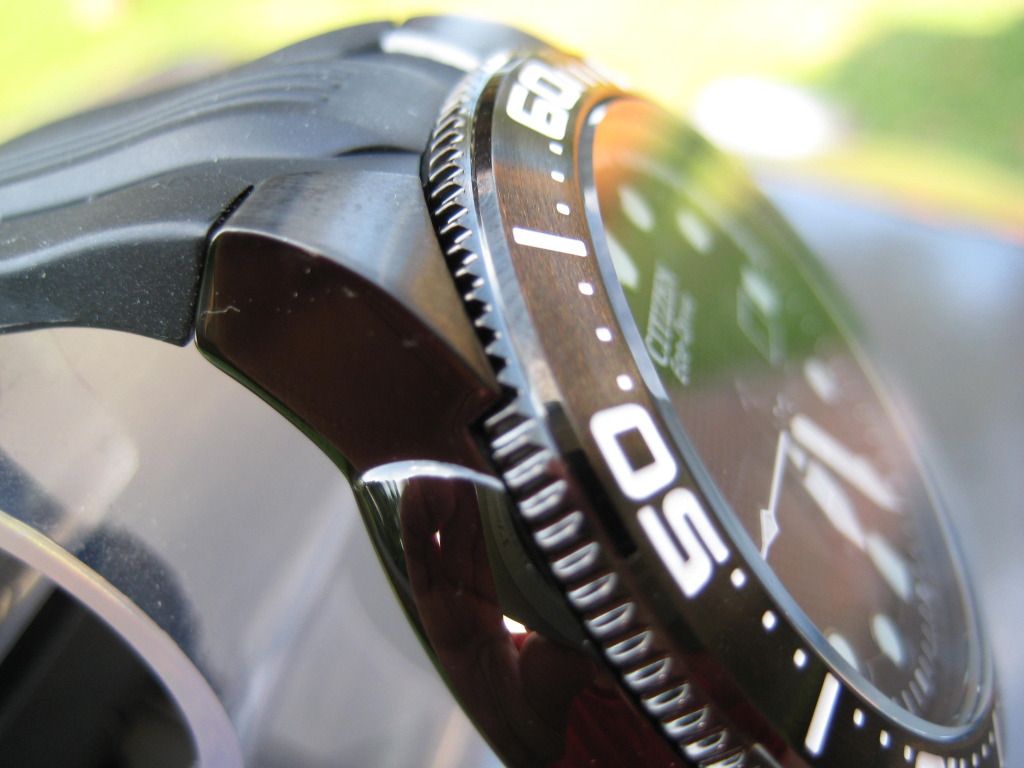 The dial and hand set are clearly the best feature of this model. The dial has this great geometric pattern to it which reminds me of Spiderman's costume and coincidentally also reminds me of the dial on the G-Shock Rally Mudman I used to own. The index markers are chrome lined and filled with a healthy amount of lume. The handset are a ladder style and the minute hand has the matching accent color for decoration and to also permit for rapid identification for use with the timing bezel. Lume on both the dial and hands is blue in color when glowing. My favorite.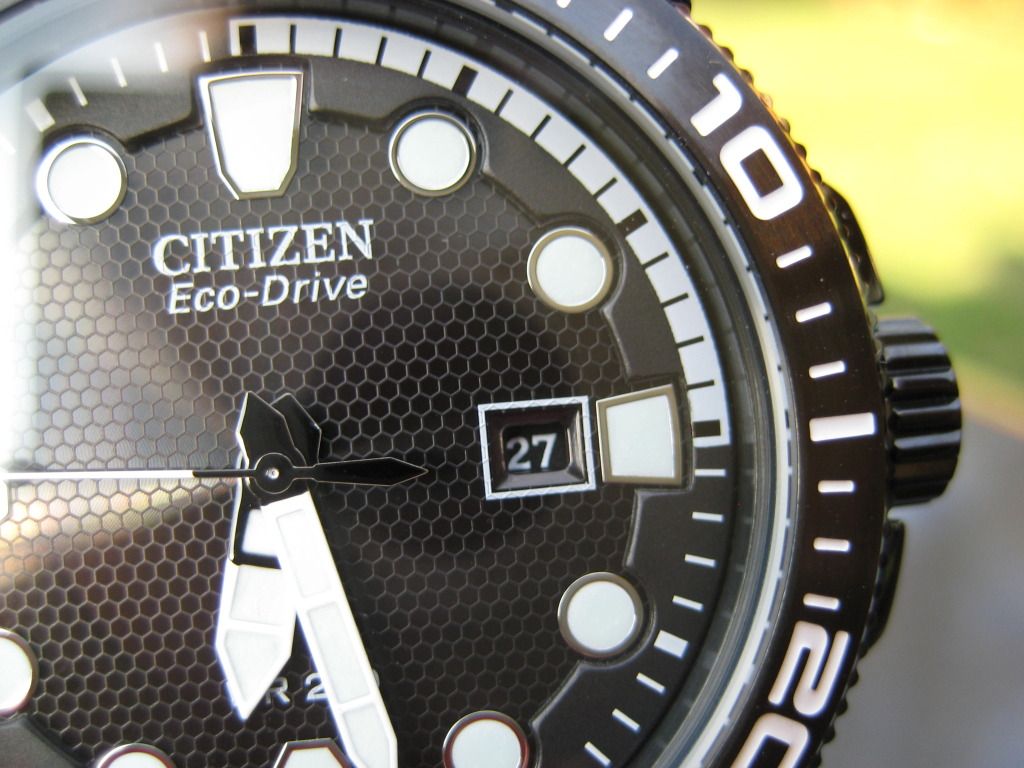 The timing bezel is a 60 click with the best feel that I've experienced with a Citizen diver. Still nowhere near the smooth action experienced with most Seiko divers, but much better than the clicky, cheap feeling bezels I've met in the past. The numbers of the bezel are engraved, but unfortunately NOT lumed.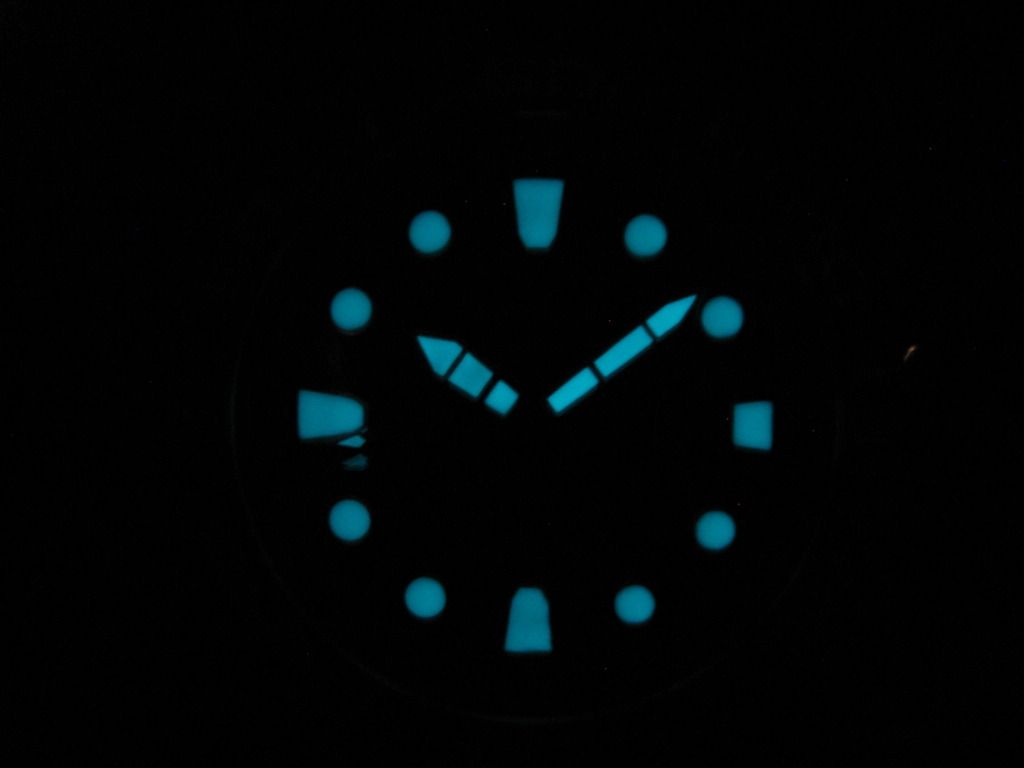 Date window itself is large, however, the digit itself is quite small. I know this is an issue with many people. Not something I would protest, but I admit on this model it looks a little odd.
The crystal is mineral crystal with an interior anti-reflective coating. It is not very well protected by the bezel so I would expect this model to accumulate scratches even with casual use. That's been my experience at least with similar models.
The strap is integrated with the case which means your strap options are limited only to the stock strap. The strap is nice quality though. Not as nice as Bonetto Cinturini rubber, but not too far away. Very flexible and also quite thick, I wouldn't expect this one to easily tear. However, because of the limited options, it never hurts to pick up an extra. The strap has two keepers with a PVD finished buckle. The watch feels very comfortable while wearing.
Inside beats the E168 caliber. It is solar charged and quartz regulated like all other Eco-Drives. One curious thing I've noticed about the E168 is that it is predominantly used in Citizen's professional and recreational diver models. I've often thought it would be great for Citizen and to manufacture a simple date only three handed quartz caliber with a high torque movement similar to the Seiko 7C46 and 7548 calibers to be used exclusively in the more demanding sport watches. I don't know that the E168 is any different from any other Eco-Drive caliber, but it is odd that it is used predominantly in diver models. I did find one picture of the caliber from photobucket member ocean_2000m. The movement doesn't look extraordinary and I don't think it is jeweled so who knows.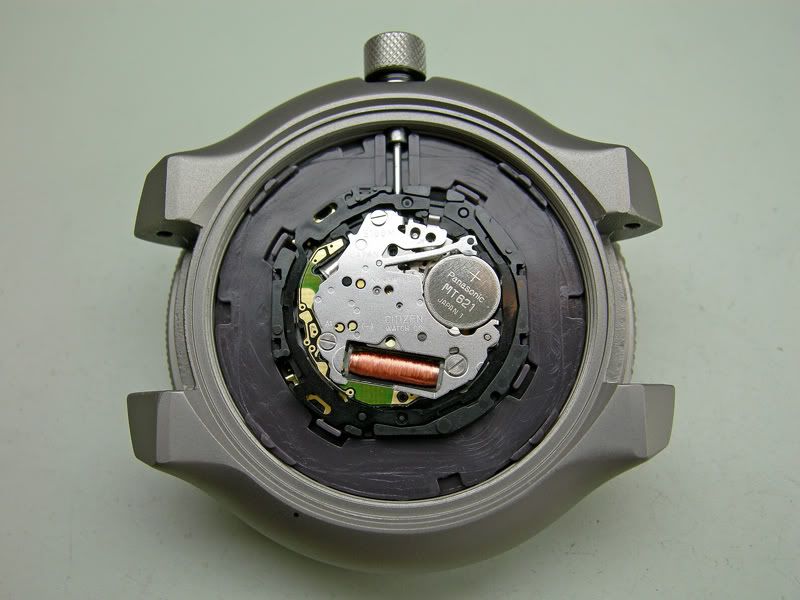 While I am very happy to see a traditionally styled diver from Citizen, I do have a few complaints which are probably enough to prevent me from keeping this model.
First, the lack of a bracelet option is a deal breaker for me. I don't mind the integrated variety as in my experiences I usually prefer the stock options best anyway. However, I require a bracelet for my watches. Straps just don't cut it for some reason.
Second, the diver is not ISO certified. I don't know if this is a deal breaker or not, but certainly a nice to have. When there are just soooo many watches to choose from, I always want that something extra. I know I don't dive and hardly even go in the water, but Professional divers just have that little something extra. What can I say.
My final disappointment in the model is somewhat subjective as I find the proportions odd. The watch was larger than I am normally used to wearing so maybe that has something to do with it as does the integrated lugs. Perhaps this is something I could get used to with some wrist time and also likely not to bother other people. Especially those looking for larger sized watches.
All in all I say the Citizen Scuba Fin is a good model if you are looking for a well constructed sports casual watch especially if you are looking for something larger than what is typically available from the Japanese manufacturers. The use of an integrated strap with no bracelet option will limit its use to recreational. With that said, I still think the Seiko BFK represents a better option for slightly less money.
Dimensions
Crystal 35mm
Bezel 44.5mm
Case 46mm
Case with crown 49.5mm
Lug width 18/26mm
Lug to Lug 51mm
Thickness 12.5mm