Looks like Joe Kirk and the boys at Arizona Fine Time will be hosting the Grand Seiko Road show scheduled for October 14, 2011. AZFT is located in Scottsdale, Arizona.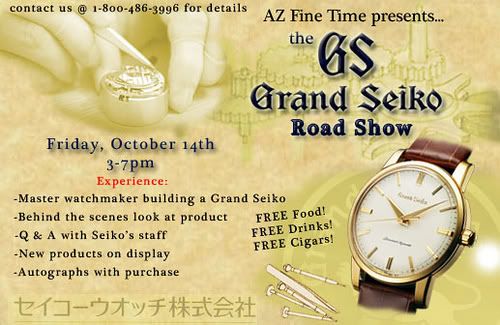 Demonstrations will include the assembly of a Grand Seiko caliber by a Seiko Master Watchmaker, a meet and greet with Seiko representatives as well as a display of Seiko models and parts for personal inspection.
Jikan's very own contributor "japanwatchconnection" will be in attendance. If you happen to meet him, be sure to check out the beauty he will be picking up in person.
So if you are in the area or interested in traveling for the event, be sure to drop in for a visit. It is a rare event that Seiko rolls out its show for the American public and is a great opportunity to see some good stuff. I'm sure it will be worth your while. If you have ever done business with Joe you'll know he's one of the good guys and will take care of his customers.